Crime Against Women Cell
As the very name suggests, Crime Against Women Cell is a special body of Dadra Nagar Haveli and Daman Diu Police,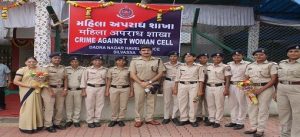 which aims to safeguard the rights of women in the DNH & DD. It enquires about the complaints and investigates the cases related to dowry and other crimes against women. This Special Unit also provides special services like counselling etc.
It works with various NGOs, schools, colleges and other agencies to gather insights and spread legal and social awareness about various issues concerning women in the present times, thereby, striving to create a more enabled and emphatic social society for women. Each District has a separate CAW Cell.
Dadra Nagar Haveli District:
Address: Woman Cell, Pipariya Out Post, Silvassa
Daman District:
Address: Parkota Sheri, Panch Rasta, Nani Daman, Daman
Diu District:
Address: Woman Cell, Diu Fort Road, Near Collectorate, Diu