Traffic Police
Union territory of Dadra & Nagar Haveli and Daman & Diu is composed of three districts namely Daman, Diu and Dadra & Nagar Haveli. Dadra & Nagar Haveli district is spread over in 491 square kilometers wedged between Maharashtra and Gujarat. Whereas total geographical area of Daman & Diu is 112 square kilometers. Being the Industrial Hub and a Tourist Destination, Daman and Dadra & Nagar Haveli are witnessing unprecedented growth of both human and vehicular population over the years which is reflected in the traffic scenario of the cities.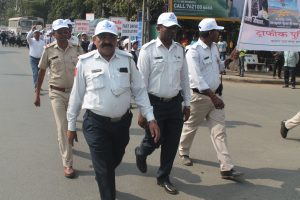 The task of traffic management has become difficult due to mixed traffic on the roads, the erratic behavior of road users, shortage of parking spaces, unsatisfactory road conditions, etc. Despite all constraints, the Traffic Police is sincerely engaged in the task of managing the traffic for its smooth and safe movement on all roads of the capital.
To achieve the highest standards of the smooth and safe flow of traffic our objectives are:-
Prevent and reduce accidents.
Effective enforcement of traffic regulations.
Inculcate a sense of discipline amongst road users and educate the public including school children on road safety.
Ensure smooth and secure traffic movement for special occasions and VIP duties with minimum inconvenience to the public.
Develop a sense of responsiveness and sensitivity to the needs of the public.
Render assistance to the public in various stressful conditions such as prompt first aid to accident victims.
Develop the human resources of traffic police.
Assist and advice various agencies in the coordinated development of infrastructure for the smooth and safe flow of traffic.
Ensure the protection of the environment and take appropriate steps for the prevention of noise and air pollution.
Encourage participation and involvement of the public in traffic management.